I am a web developer at a US Company.  I have been doing freelancing long before and one of my client impressed by my work and hired me for his company. I always tried my best to give the best service.
One day this new client came, and he was from Pakistan. When I took his project on a fix price, he started adding tons of extra work and didn't mention many major details that would change the project value completely. I tried to work with him but every time he was doing the same thing, adding more work on a single task and tried to make me do everything on a single project paying very little. He still owes me money and when he came up with a new project I told him I am busy. Basically I wasn't interested in his work anymore, and he had made me work before by threatening to give me a bad review. For first month he delayed saying his client is not responding. Then afterwards kept adding work after work saying it should be done as default! He came up with lot of issues and told me to fix them for free. So much time was wasted like that. And he blamed it all on me.
And even though the previous work was done, just because I refuged to work with him, he gave me a bad review anyway. People like him don't care about ethics, morality or anything at all. He didn't care that I put all my effort, performed tons of unpaid tasks he still did it anyway. That is why I would advice you to consider and tread careful. Another Pakistani client still owes me money. There is nothing I could do.
So whenever a client gives you a bad vibe or make you think whether you should accept the project, don't. Specially when a client tries to put more tasks on a single task project, know this that he/she would keep adding until you say know and he/she is disappointed. For example it would come as a single customization task and end up doing the whole website and still have a bad review. Always avoid this types of people and trust your gut. Thanks for reading
I am going to put the client profile who did the to me, so that you would be careful not to get any work. This guy is a fraud, he is not a full stack developer, he only takes project hires full stack developer like me.
Be aware of this fraud and report this profile so that he can't harm anyone else  – Muhammad G. (Beware of this fraud) . 
I will provide evidence here . Look how he keeps talking even when I Told him to hire some one else .
Please keep in mind that a lot of the conversation is happening out of the project. He keeps asking me how to do it or do that and telling me to do it or when I will be available. Because of the nasty experience working with him before, I kept trying to avoid him and when I blocked him he gave me the following reviews. Take a look what he says, he says I am lazy, he gave me a single task and made me to tons of tasks in that one task and paid for just one task and so many trouble some conversation which was very tiring after working, I couldn't do it anymore.
I first thought about not saying or doing anything, but, he would probably keep harming other freelancer who put their best effort and work a lot. I don't want him to hurt anyone else anymore.
Whether you decide to report this guy or not, but if you are a freelancer don't work for him, he will ruin your work experience and bad reviews might harm your profile even after putting so much effort and time.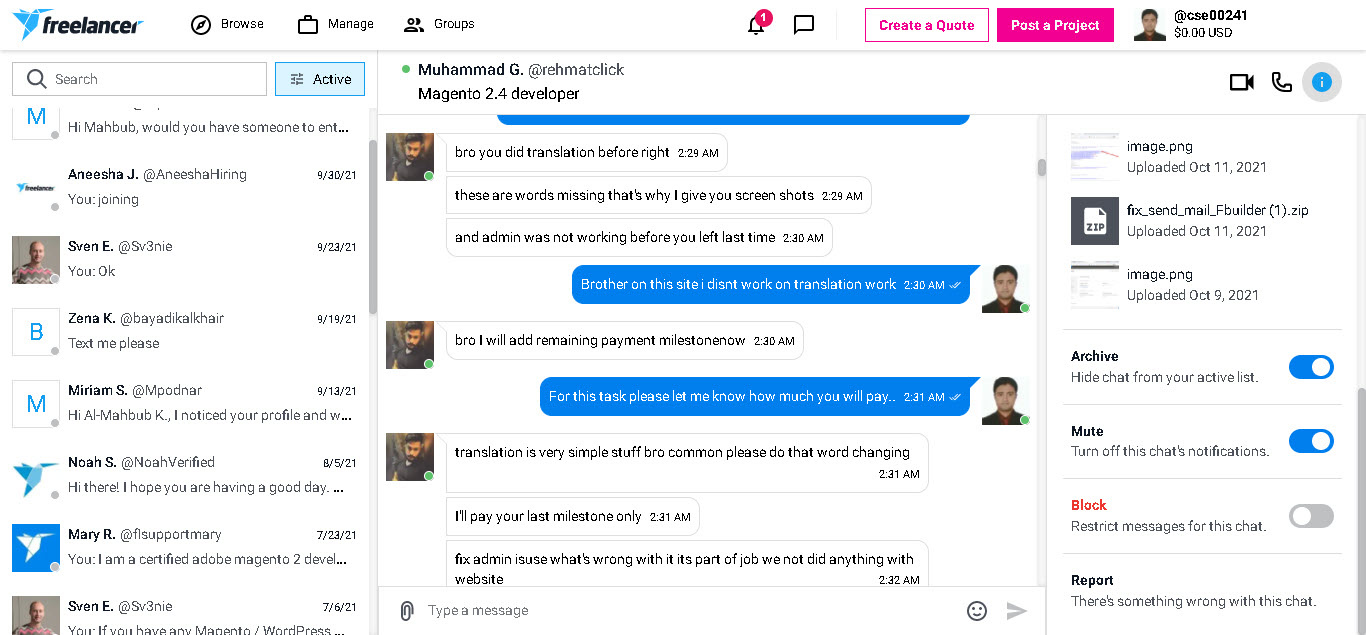 Take a look how he is trying to manipulate me into working more and more without pay. He told me that I did wrong on the translation and when I mention that I didn't do translation on that project he told me to fix it anyway and he will pay me my previous due. Basically he want me to do it any way for free, he did this countless time.
I would also add a YouTube video where you can see the last conversation I had with this fraud. He tried to make me do more free work and even try to bate me with the promise of more payment. Now why would a guy would want to keep make me work for free and hire me again if he thinks I am lazy ?
Watch this video to see my last conversation with him –
Don't fall for the traps by these types of people, they can't work, so they act like a parasite, and hire other developers and force them to do as much as possible, blackmail them and in the end put bad reviews to ruin their profile. I shouldn't judge people by country but all I have is bad experience with Pakistani clients. The judgement is up to you. I have met a lot of good clients, Europeans, Americans, Japanese, but these evil people sometimes makes me want to reconsider freelancing. I mean they could do just that and there is nothing I could do. I just hope KARMA catches up to this guy some day. Thanks for reading!